Just like I did last season, I'll be briefly covering the Winter 2019 seasonal anime that I watched but that didn't get a full review on the site. This is not indicative of a show's quality (for the most part) but rather a that I didn't have enough to say about a show to write a full review. I'll keep spoilers to a minimum but will warn if it's unavoidable. So without further delay here's the episodes I watched but didn't review this week.
The Quintessential Quintuplets (Episode 4)
There's some shows I can easily talk about, and then there's some shows that just baffle me as a reviewer. I talked about (in my Episode 3 review) just how hard it is to talk about show's that are just "good" and once again I struggled to come up with anything other to say then it was a "good episode" hence why it's found itself out of the episodic review cycle and in the depths of 'Watched But Not Reviewed'! The girls continue to be the most interesting thing about the show, while our protagonist–and the show itself–remain adequate but uninspired.
Mysteria Friends (Episode 2)
While the art quality slipped from "visually sumptuous" to just "damn gorgeous" this week, the emotion and character development more than made up for it. Anne's epic journey to find a 'cure' for Grea's illness was imaginative and impressive but the low-key reveal that all the pain Grea was going through were literally just 'growing pains' as she shed her tail skin and grew in size was kind of adorable–as was Grea's self-consciousness about getting "bigger". This show remains a treat in every conceivable way.
Circlet Princess (Episode 3)
Mostly more of the same just with an added focus on the fundamentals of 'Circlet Bout' as a sport and our protagonist Yuka deciding what she wants to do going forward. The matches were fun to watch and the characters likewise. I don't have a lot to say on the show but don't let that fool you into thinking this show isn't worthy–it is and it's a shame it continues to be unlicensed by Western streaming services.
How Clumsy You Are, Miss Ueno (Episode 4)
*awkwardness intensifies* but likewise so does the comedy. Of the two segments the second one, dealing with a pair of Ueno's tights becoming sentient due to one of her inventions, wins for laughs and for ingenuity.
Girly Air Force (Episode 4)
This show continues to impress with not only its commitment to being compelling on a character level but also being a big-budget spectacle without showing off. Gripen is endearing as all heck and we're finally introduced to the busty blonde pilot who's been teasing us from the OP since the start and she lives up to her promise by being entertaining and charming in equal measure. Better than 'Strike Witches'–there I said it!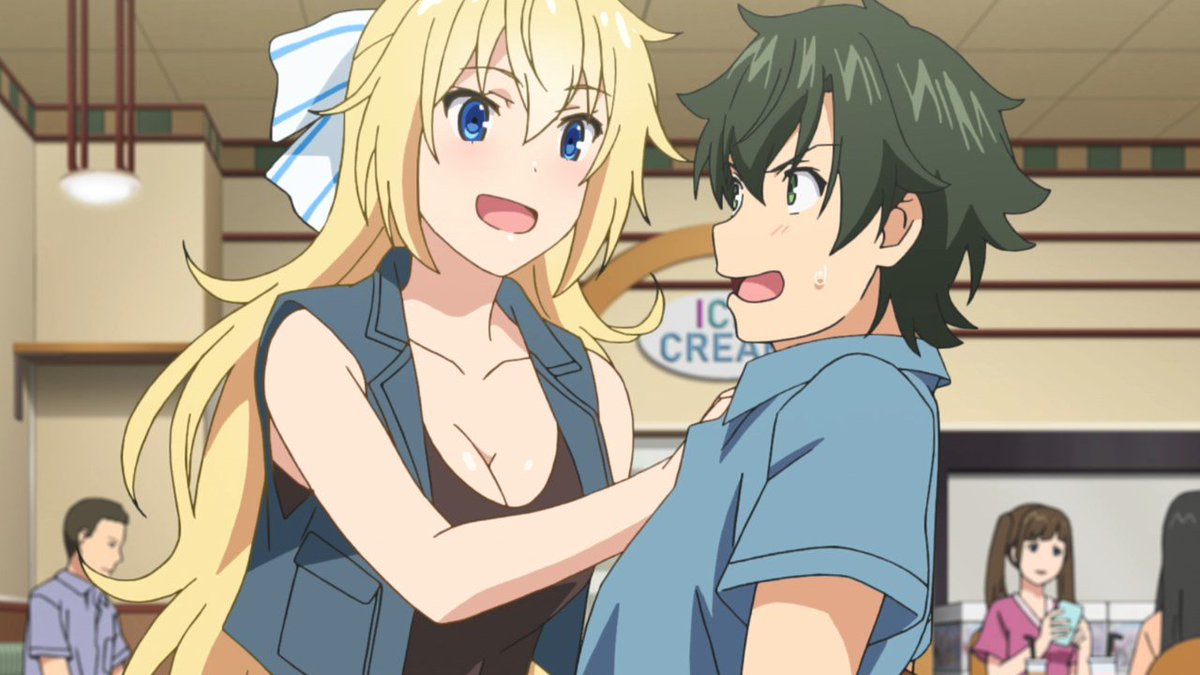 Date A Live III (Episode 4)
The first half of the episode which had the majority of our female cast revert back to elementary school aged was as silly as it was endearing–as were many of the subsequent shenanigans Natsumi inflicted upon Shido. The second half, dealing with a makeover for the now captured Natsumi to boost her self esteem however fell most flat. Also I don't like how easily Origami went over to DEM Industries and I'm hoping this is just her making a chance for infiltrating the enemy.
Bermuda Triangle: Colorful Pastrale (On Hold After Episode 3)
The Rising Of The Shield Hero (On Hold After Episode 3)
I've put these two shows on hold until after I'm back from Japan. I needed to thin out my watch-list for the vacation and these were the two weakest links.
Dimension High School (Dropped At Episode 2)
And that's all for this week! Let me know what you thought in the comments below!
---
Previous 'Watched But Not Reviewed' Posts:
Winter 2019 Week 1
Winter 2019 Week 2
Winter 2019 Week 3
---
If you liked my post and want to support my content, please consider supporting my Patreon page, or donating by buying me a coffee on Ko-fi!