Another week under the proverbial belt, huh? Indeed.
So a little birdy told me you spent a lot of money on anime merch and mangas last week? Who told you?
As I said a little birdy, a blue one by the name of twitter, you tweeted about it remember? Oh yeah, and yes. I sold some junk on eBay again + some inheritance allowed me to spend about it on merch and manga, one lust hurrah as it were before the scrimping and saving of being unemployed sets back in.
So care to share? Can't, none of it arrived yet! It's all due next week so expect a separate post about my various orders from Amazon Japan and Mandarake.
But you got a couple of manga this week? Yes from older orders.
And they were? Um… 'Bloom Into You' Volume 2, 'How To Build A Dungeon: Book of the Demon King' Volume 1, 'Shomin Sample' Volume 1 and 'There's A Demon Lord on the Floor' Volumes 2, 3 and 4.
Decent haul, and which manga did you read? I read 'Shomin Sample' which was a fun, but kind of nonsensical harem, like I get the story but there's so many plot holes. But I'll keep reading because the girls are super cute. I also read 'No Game No Life Please' Volume 1, which I thought was a comical a spin-off manga of the brilliant series 'No Game No Life' and it is, but it's also insanely detailed, and has so much world building and development that I'd dare say its essential reading for fans of the series, which brings me to…
Something that's not a good spin off? You got it! I read Volume 1 of 'Monster Musume: I Heart Monster Girls' and… well, talk about mixed bag. I guess that's the problem when you have over a dozen authors contributing stories short 4-panel style comics to the Monster Musume universe. Some of these authors just plain suck! Sure it was fun to see some different art styles to these beloved characters, but at least half of the stories were just boring at best and at worst completely out of character.
You're sounding a bit like a monster girl hipster, wow, there's a sentence I never thought I'd say… Maybe I am, but reading the really good coolkyoushinja and Shake-O's chapters it was clear there was a great divide in talent between some of the contributors.
And the other one you read? Hehehe…
Oh dear, I'm in for something perverted now aren't I? How dare you! I'll have you know 'How To Build A Dungeon: Book of the Demon King' is a totally wholesome… BAHAHA, oh god I couldn't keep up that ruse any longer!
Right, so go on and tell me what it's about… It's hard to explain, right so if you ever played Dungeon Building games like the 90's game 'Dungeon Keeper', or its 2015 spiritual successor War for the Overworld, you're kinda close to what this manga is about, except add in a WHOLE BUNCH OF SEX. Like literally every chapter has an explicit sex scene that's about a pencil's width from being literal porn… it's great!
Uh-huh… so let's quickly change the subject and talk about anime! Ok, sure, a good week of anime, nothing especially remarkable from previous weeks, though I've put Darling in the FranXX on a personal hiatus, I'll go back to it every 6 episodes to make a quarterly post but I can't deal with watching it week to week.
Fair enough, what was the best airing show of the week? Probably citrus (episode 10 review here), which is a sentence I didn't expect to be saying, though that said Slow Start and Dagashi Kashi were very good too. Everything else was consistent with how it's been throughout the season.
Any other anime? Oh yeah! I started watching Killing Bites, it's silly but it's a lot of fun.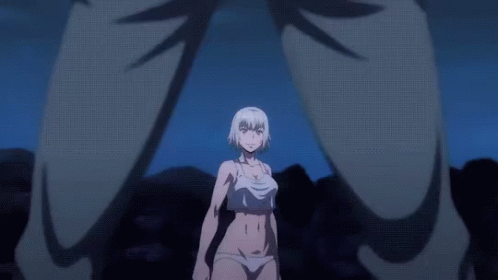 Anything else to report from the week? Yes! I started writing a light novel, and with the exception of this blog it's probably the most fun I've ever had writing something! I look forward to sharing it with you all!
Great, but I already knew that, I read your twitter posts, remember? Way to spoil my fun!
And on the site? New stuff! I made my first manga review on Nurse Hitomi's Monster Infirmary, which should become a weekly occurrence (different manga each week FYI), and also a Top 10 List of the Best OP's of the 2018 Winter Anime season under the 'Listing Compulsive' banner, hopefully people enjoy these new types of posts because they're not going away any time soon!
And that's it then? I think so, yeah.
Great so how would you rate the week ending 11th of March 2018. A great week for starting new things, I'm really enthusiastic about all my new projects both on the site and in my creative writing! Thank you all for reading and continuing to support my blog!