What's the show? Sword Art Online Alternative: Gun Gale Online, Episode 12.
Here we are end of Squad Jam 2 and end of Gun Gale Online. It all happened so fast, I don't know how to feel!
What did, the episode? No, the episode is perfectly paced—I meant the series in general, feels like it was just yesterday we were meeting cute little LLENN-chan!
Right… that's enough strolling down memory lane, how's the finale, how much of it is taken up by the conclusion to Squad Jam since the previous episode ended on a cliffhanger? Mercifully little, not to say that I didn't enjoy Squad Jam 2 but by this point in the series I needed this finale to focus on the scenes set irl and boy oh boy does this episode deliver on that!
I know you're frothing to talk about the "irl scenes" but please, focus on the episode in chronological order, who wins Squad Jam 2?! Well it's a tough one-on-one battle between LLENN and Pito, things get dirty, things get violent, there's neck stabbings and face punching and hands being cut off—it's positively visceral! But in the end, it's the power of trust and teamwork that gives LLENN and co the upper hand. With all weapons out of reach, the two are face-to-face and on the ground, both on minimal life, LLENN reminds Pito of her promise, that if she ever won that they'd meet in real life. Pito calms a little and LLENN tears Pito's throat out, claiming her kill.
Wow… brutal… I'll say.
So LLENN and Fuka win? Nope, there was a third team on the map that were lying in wait and proceed to mow down LLENN and Fuka in a matter of seconds.
Oh, kind of anti-climactic, no? Not at all! I would have been annoyed if it had kept going, it was ~just~ the right length for me, besides it was never about winning Squad Jam, it was about LLENN "saving" Pito by killing her in the game—and by that definition, mission accomplished!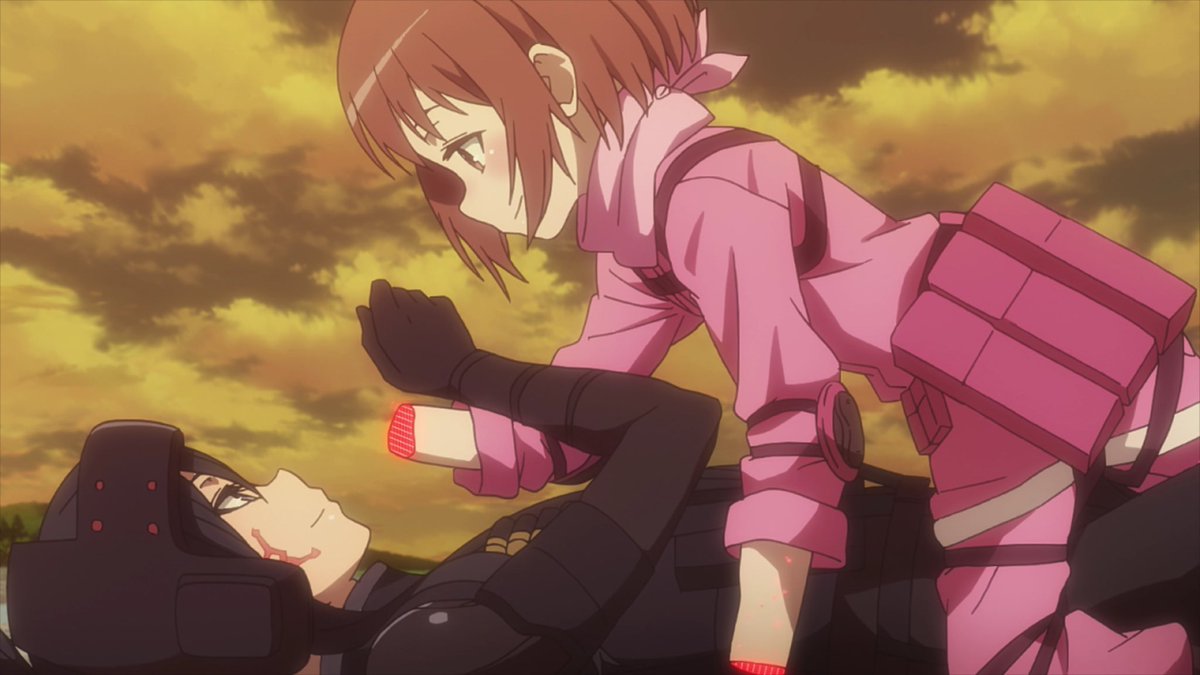 Right, I know you've been eagerly waiting to talk about the scenes set outside the game. Go on now, have your fun. Arigato! So it's kind of hard to put into words how much I prefer the show's scenes set in real life, first we get to see the adorable team SHINC having their sweets and tea with Karen and it's exactly the amount of adorable I was craving, like the anime equivalent of a sugar rush! Then Karen and Miyu (the irl Fuka) go to meet with irl M (Goshi) who's going to take them both to meet the real life Pito—whose identity is still a mystery!
If I recall from an earlier review, this 'Goshi' character is a little ~obsessed~ with real life Pito, to a troubling degree, do they explain any of that? Yup, and it's as hilarious and twisted as I was hoping—turns out in his teenage years Goshi was an overweight stalker(!) and one day while following her, she confronts him, invites her back to her hotel room, strips him, beats him and takes incriminating photos basically ensuring that he'll be her manservant for life.
Umm… I don't know who's worse him for stalking her or her for treating him like that. An essay could be written about how deeply "problematic" that whole thing is, but the way I see it is that they're too screwed up people who probably deserve each other—nothing come from trying to dissect and discuss the validity of their "relationship".
I guess that's your way of saying, 'we're moving on', yeah? Moving on… They arrive at their destination a secret Elsa Kanzaki concert! (Elsa Kanzaki is both Karen and Miyu's favourite artist) they watch the petite singer's performance with joyful tears in their eye and then backstage we finally meet the irl Pito… Goshi tries to make out that real life Pito is the owner of the club but Karen's smart enough to know what's going on…
Well who is it? Turns out Pito has been Elsa Kanzaki all along, that's right the bloodthirsty, borderline insane master of GGO was a petite pop-star with a cutesy image! And I love her so much!
Excuse me? Elsa Kanzaki is best girl; also she's bisexual… which Karen finds out as she plants a big kiss on the lips of the blushing tall-girl!
Sounds like Elsa's got some issues with consent… Maybe, I don't care, talk about how it's problematic that a bisexual character is presented as sexually promiscuous all you want in the comments but right now I'm just content to sit and bask in the afterglow of this season finale that was pretty much everything I love about this show in one 25 minute package! I'm going to miss this show a lot, it was an unexpected treat of the season and even if it never gets a second season I'm incredibly satisfied.
---
Previous Sword Art Online Alternative: Gun Gale Online Reviews:
Episode 1 Review
Episode 2 Review
Episode 3 Review
Episode 4 Review
Episode 5 Review
Episode 5.5 Review
Episode 6 Review
Episode 7 Review
Episode 8 Review
Episode 9 Review
Episode 10 Review
Episode 11 Review
---
If you liked my post and want to support my content, please consider supporting my Patreon page, or donating by buying me a coffee on Ko-fi!